Diabetes insipidus in dogs is a rare condition which may cause excessive thirst and urination. Integrative veterinarian Dr. Julie Buzby explains what it is, signs to watch for, diagnosis, and treatment so you will know how to help and support your beloved pup.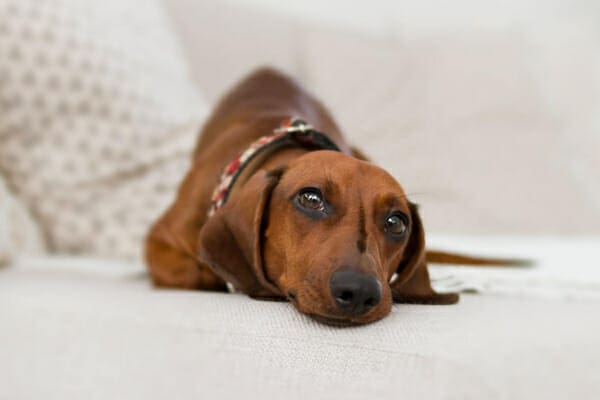 You've probably heard of the term diabetes before. When diabetes is mentioned in conversation or in a television commercial, it often conjures thoughts about blood sugar, A1C, or a kindly mustachioed gentleman telling you where you can get your diabetes testing supplies. However, not all cases of diabetes are the same. Everything listed above relates to diabetes mellitus, which leads to increased blood sugar. However, there is also another form of diabetes called diabetes insipidus. It affects both dogs and people but has very little to do with blood sugar.
What is diabetes insipidus in dogs?
Diabetes insipidus is a rare disorder involving antidiuretic hormone (ADH). Affected dogs will either stop producing sufficient ADH or their body will stop responding to ADH. This is a hormone that normally controls how much water is lost in the urine. Thus, dogs with diabetes insipidus cannot conserve water and concentrate their urine appropriately.
There are two types of diabetes insipidus in dogs. Central diabetes insipidus (CDI) is when the body is partially or completely deficient in the production and release of ADH. In nephrogenic diabetes insipidus (NDI), the kidneys do not respond to ADH, no matter how much is present in the body. CDI tends to be an acquired disorder. NDI may be either an acquired or congenital (i.e. present from birth) problem. (As a side note, breeders should not breed dogs with congenital NDI because they could pass it on to the offspring.)
How does ADH affect the body?
Before we can discuss diabetes insipidus in more detail, let's take a closer look at ADH. As mentioned, ADH helps to regulate water balance in the body. In short, ADH decreases the total amount of water lost through the kidneys, resulting in more concentrated urine. Its function is actually right in its name—anti-diuretic hormone. A diuretic is something that increases water loss, creating large amounts of dilute urine. So a hormone that is "antidiuretic" would have the opposite effect.
ADH is a product of the endocrine system. This network of multiple internal organs regulates the body's metabolism, reproductive system, growth, and other biological processes. The pituitary gland is one of the most important elements of the endocrine system. It is a tiny, bean-shaped gland in the center of the brain that releases various hormones. These hormones are chemical messengers for different parts of the body.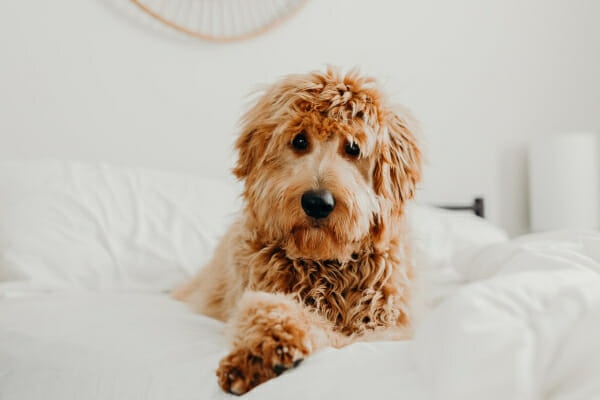 The pituitary gland will release ADH when the water content of the blood is low. It does the same if the concentration of substances, such as salt or glucose, in the blood is too high. These are both situations where the body needs to hold onto water to restore fluid balance in the blood. Additionally, the pituitary may excrete ADH in response to anxiety, pain, or when certain drugs such as phenobarbital are present in the body.
ADH binds to cell receptors in the tubules of the kidney. The job of those cells is to filter blood and reabsorb water. The kidneys do need to lose some amount of water to produce urine since it is a liquid. However, the presence of ADH causes special proteins called aquaporins to act like channels that transport water back into the kidney tissues. A healthy kidney cell receptor always responds to ADH in this manner.
What are the causes of diabetes insipidus?
Dogs with central diabetes insipidus (CDI) have insufficient amounts of ADH. This results in dilute urine because the kidneys cannot reabsorb water. Since ADH is made and produced at the base of the brain, dogs with head trauma can develop diabetes insipidus. Similarly, dogs with blood clots or tumors in the brain (especially pituitary tumors) can eventually show signs of CDI. And even though congenital CDI is rare, it is likely that puppies with poor brain development may be born with a malfunctioning pituitary gland.
When dogs have nephrogenic diabetes insipidus (NDI), they have normal levels of ADH in their body. However, the portion of the kidneys that concentrates urine cannot respond to ADH. As a result, the urine is dilute. Congenital NDI, where a dog is born with poorly functioning or absent ADH receptors, is extremely rare. Instead, the acquired version of NDI is the more likely culprit. Any of the following can cause NDI:
Use of steroid (i.e. prednisone for dogs) or diuretic medications
Infection or sepsis (injures the receptors that bind ADH in kidney tissue)
Cushing's disease in dogs (may also affect the release or function of ADH)
Addison's disease in dogs (causes low sodium in blood which decreases ability to concentrate urine)
Diets that are deficient in protein
Electrolyte disturbances (low potassium or elevated calcium interfere with ADH receptors)
Kidney disease or liver disease in dogs
What are the symptoms of diabetes insipidus in dogs?
As you can imagine based on the function of ADH, increased thirst in dogs and increased urine volume are the most common clinical signs. Some dogs with diabetes insipidus seem to have an insatiable thirst.
Dogs may vary a bit in how much they drink on any given day. In general, a dog who is consistently drinking more than 90 to 100 milliliters per kilogram of body weight per day is drinking too much. Similarly, a dog who urinates more than 50 milliliters per kilogram of body weight is urinating too much.
So as an example, if your dog weighs about 50 pounds, and he or she drinks more than two liters in a day or urinates more than one liter in a day, this may be cause for concern. It doesn't automatically mean your dog has diabetes insipidus though. Many conditions can cause polyuria (i.e. increased urination) and polydipsia (i.e. increased drinking).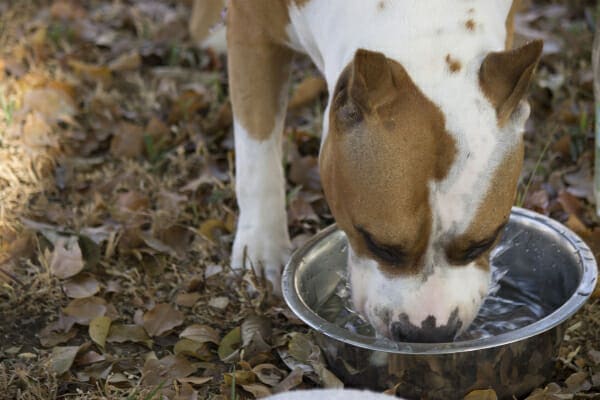 Other clinical signs associated with diabetes insipidus include weight loss, lack of appetite, and a lethargic dog. Dogs can also appear dehydrated even though they seem to be drinking a lot of water.
It is important to avoid limiting access to water. If water is only provided in small amounts, it can lead to elevated sodium levels in the blood (i.e. hypernatremia in dogs). This salt toxicity can cause neurologic signs such as depression, stumbling when walking, or may even lead to a coma.
What does testing for diabetes insipidus involve?
Since there are numerous health issues that can cause increased thirst and increased urination, your veterinarian will recommend several diagnostic tests. Often, these include a complete blood cell count, blood chemistry, electrolytes, and urinalysis.
These tests can help rule out other conditions with similar signs such as kidney disease, liver disease, diabetes mellitus, or infections like a pyometra in dogs or pyelonephritis (i.e. kidney infection).
Your vet may also recommend a urine culture if he or she suspects a UTI in dogs. Sometimes your dog may need specialized blood tests to confirm a diagnosis of Cushing's disease or Addison's disease.
Urine specific gravity
Your vet will also look at your dog's urine specific gravity, which is part of a complete urinalysis. Also known as "spec grav" or USG, urine specific gravity measures the concentration of particles in urine. Water has a specific gravity of 1.000. The higher the number, the more concentrated the urine ( i.e. 1.040 is more concentrated than 1.025). Normal urine concentrations are usually around 1.035 or higher while USGs below 1.012 are pretty dilute.
Any USG below 1.008 is highly suggestive of diabetes insipidus. Since concentrations can vary throughout the day, it is always best to use the first urine sample of the day when evaluating USG. Samples collected in the middle or end of the day are almost always more dilute. Your vet may recommend repeating a USG with first morning urine to make sure that the reading is accurate.
Modified water deprivation test
Veterinarians used to perform the modified water deprivation test to help diagnose diabetes insipidus. The test involves a gradual reduction of water intake over a four day time period. Then water is withheld and the veterinary team carefully monitors USG, hydration status, body weight, and other parameters.
If the dog demonstrates he or she can concentrate the urine to a USG of 1.030 or higher, this rules out diabetes insipidus. If not, diabetes insipidus is likely.
However, this test has fallen out of favor with some vets. Limiting the water intake of a dog with CDI or NDI can cause terrible neurologic signs due to rising levels of sodium in the blood.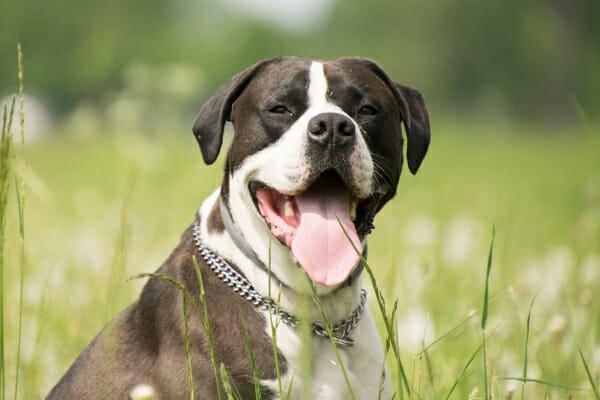 Desmopressin trial
Some veterinarians will skip the water deprivation test and go straight to treating with a medication called desmopressin, which mimics the actions of ADH.
With a desmopressin trial, the dog parent measures water intake for three days to establish a baseline. The dog parent will also collect urine at the same time every day. Then the dog will start receiving desmopressin. The dog parents will continue to measure water intake and collect urine samples. The veterinarian will analyze the USG, and sodium, glucose, and urea concentrations in the urine.
Patients with CDI usually show dramatic improvement in water consumption and urine concentration. However, since NDI patients have problems with the ADH receptor function, desmopressin won't help.
What is the treatment for diabetes insipidus?
There is no definitive treatment for congenital NDI. Treatment for acquired NDI focuses on addressing the underlying cause. For example, if the vet treats a kidney infection quickly and aggressively, the kidney tissue can become healthy again and may start responding to ADH.
Most NDI patients may not respond to therapy. But thiazide diuretic medications such as hydrochlorothiazide or chlorothiazide may help decrease urine amounts. It sounds counterintuitive to treat diabetes insipidus with a diuretic. However, it is effective in some cases because it helps the kidneys retain more water independent of the action of ADH.
Dogs with partial CDI (i.e. lower ADH production than normal) may make enough ADH that they do not need specific treatment. Having some ADH may make their clinical symptoms more manageable compared to dogs with complete CDI.
The main treatment of CDI is desmopressin, a synthetic version of ADH. It is available in a liquid form which you can put into your dog's nostrils or under his or her eyelids. Oral tablets are also available if these methods prove difficult to pursue long term. Most dogs respond well to this therapy.
For dogs with NDI or CDI, it is also important to feed low-sodium diets and to avoid treats that provide excess salt like rawhide treats. It is also extremely important not to restrict his or her water intake. This could be very dangerous for your canine companion.
What is the life expectancy for dogs with diabetes insipidus?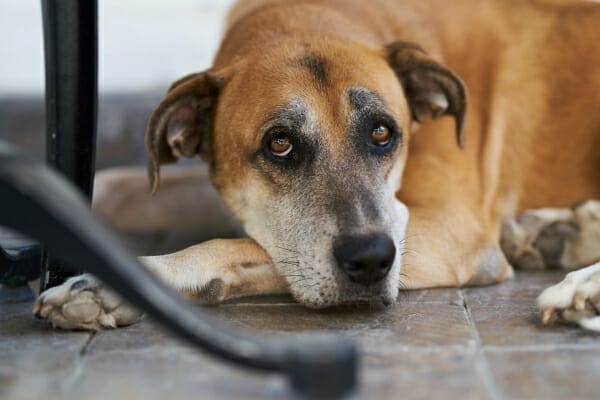 If your dog's NDI is the reversible type, it should not significantly impact your dog's life expectancy. However, dogs with irreversible NDI often have a worse outlook than dogs with CDI. This is because NDI is more difficult to treat since these dogs don't respond to desmopressin. The underlying cause if the NDI can also impact life expectancy. Some of the conditions on the list are more treatable than others.
While CDI is typically not reversible, these dogs may still have a good prognosis with desmopressin therapy and other management options. The exception to this is dogs who have CDI due to a pituitary tumor.
Regardless of if your dog has NDI or CDI, you can help him or her by always providing access to fresh water. You should also give him or her lots of chances to go outside to urinate. Monitor your pup closely, paying special attention to water intake, and ensure that you report any changes to your vet promptly.
Sometimes dog parents may wonder about the connection between diabetes mellitus and other conditions like Cushing's disease or diabetes mellitus. If this sounds like you, keep reading to find out the answers.
Diabetes insipidus and Cushing's disease in dogs
Dogs with Cushing's disease (i.e. an over production of steroid hormones) can present with symptoms that are very similar to diabetes insipidus. This includes an increase in thirst and an increase in urination. Some dogs with these symptoms just have Cushing's disease.
However, it is possible for diabetes insipidus to occur secondary to Cushing's disease. The elevated levels of steroids can interfere with the release of ADH from the pituitary gland. Also, excess steroids in the blood can interfere with how ADH binds at the receptors in the kidneys.
The good news is that getting a dog's Cushing's disease under control may help improve the signs associated with diabetes insipidus.
Diabetes insipidus vs. diabetes mellitus
On the other hand, diabetes insipidus and diabetes mellitus are two unrelated conditions that are unlikely to happen at the same time. They primarily share the first name "diabetes" and the common clinical signs of increased thirst and urination.
Diabetes mellitus occurs when the dog's body either doesn't make enough insulin or doesn't respond correctly to insulin. This causes abnormally high levels of glucose (i.e. sugar) in the dog's blood because insulin's job is to cause the cells to take up glucose from the blood. It is still an endocrine disease, but the deficiency is in a different hormone with a different function.
Interestingly, the names for the two types of diabetes came from how the urine tastes (not that I am advocating you taste your dog's urine). The term mellitus comes from the Latin word for "sweet." This makes sense since dogs with diabetes mellitus typically have elevated levels of glucose (i.e. sugar) in their blood or urine. The term insipidus is the Latin word for "tasteless" or insipid. Because the urine of dogs with ADH is very dilute, it is practically like water, which doesn't have much of a taste.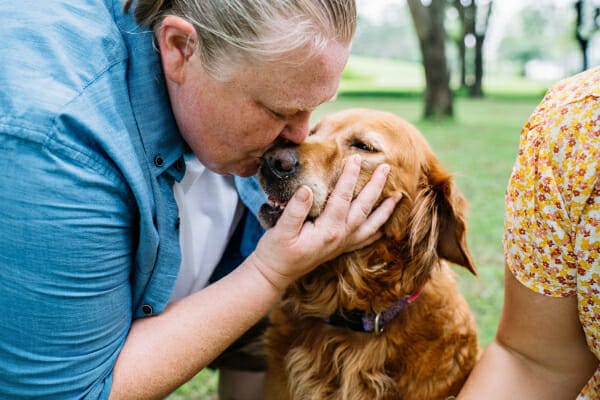 Final thoughts on diabetes insipidus in dogs
Diabetes insipidus can be an incredibly frustrating illness for everyone. It is hard to watch your furry friend do nothing but drink and drink! If you notice these signs, ensure you get your pup to his or her vet. If you have time before the appointment, try to determine how much your dog is drinking. And consider bringing a first morning urine sample in to the appointment so your vet can check the USG.
Finally, and I can't stress this enough, ensure your dog has free access to water all the time.
Together, you and your vet can get to the bottom of the increased thirst and urination. If the answer is diabetes insipidus, hopefully some medications and/or management changes can help get your dog's face out of the water dish and back into enjoying time with you! But even if your dog doesn't respond well to treatment, you can still make some good memories together.
Do you have a dog with diabetes insipidus?
Please comment below.