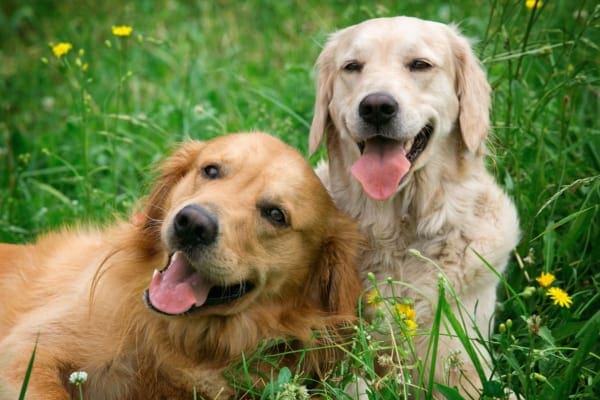 Benadryl for Dogs: How it Works, When it Works, Why it Works
Benadryl wins the award for being the human medication that my veterinary clients most commonly ask me about administering to their dogs.
Client traveling with dog: "Can I give Benadryl?"
Client with itchy dog: "Will Benadryl help him?"
Client with anxious dog: "How about Benadryl?"
The good news is that Benadryl (also known as diphenhydramine) is extremely safe for dogs. Unlike many other human medications that have marked potential for causing harm, oral Benadryl has a wide margin of safety. And even though it's not a drug I administer or prescribe often, it's safe and helpful for treating several conditions in dogs. Like this one:
What in the world is going on with the dog in this picture?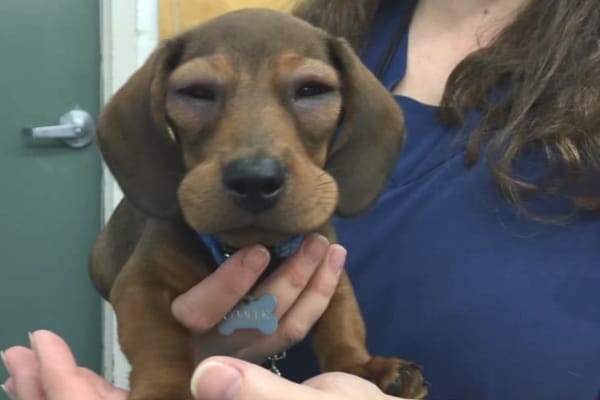 If you guessed anaphylactic allergic reaction, you are correct! These types of reactions can occur from vaccinations and insect bites or stings. (If you know anyone who carries an Epipen, it's because they are prone to this life-threatening type of allergic reaction.)
Benadryl for dogs who've had an anaphylactic reaction
I'll never forget the day Cooper the pug almost died in my arms after his rabies vaccination. Immediately prior, Cooper's family had checked out at our reception desk while Cooper ambled at the end of his leash. I had waved goodbye and moved on to my next appointment.
As they prepared to leave, Cooper vomited. His dad apologized for the mess on the floor and offered to clean it up. My astute receptionist quickly put the pieces together. She flew around the corner, took one look at Cooper's swelling muzzle, swooped him up, and rushed him into our treatment area.
His little gums were turning a sickening greyish color and his rectal temperature was starting to climb. Cooper received, among other things, an injection of diphenhydramine. Thankfully, the Benadryl (and a cocktail of other medications) did the job and he went home that evening with no issues at all. The most impactful use for Benadryl in veterinary medicine is this scenario—treating allergic reactions.
How Benadryl works in an anaphylactic reaction
Benadryl is an antihistamine. (We'll use this information in point #5.)
Mast cells, which reside throughout the dog's body are a part of the immune system. They're a type of white blood cell. This cell is of full of tiny granules called histamine. Mast cells are found in higher concentration in a dog's skin, respiratory, and gastrointestinal tract.

When mast cells note a potential foreign invader, the cells trigger the immune system by "degranulating," dumping histamine and other powerful chemicals into the surrounding tissue to summon the rest of the immune system "army."

Allergies are simply the body's immune system inappropriately ramping up to fight that which should not normally be considered a threat. Histamine and other chemical mediators dumped by mast cells cause the characteristic symptoms of allergies.


Benadryl, our ANTI-histamine, blocks receptors on the blood vessels and smooth muscle. This

prevents histamine from binding to cells in the immune system involved in allergic reactions —and the "ramp up" of allergy symptoms is avoided.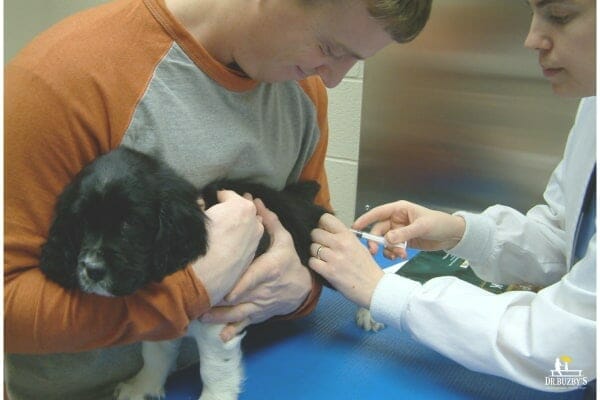 Benadryl pre-medication for dogs before vaccinations
Three years later, when Cooper's rabies vaccine was again due, I contacted the state authorities to argue for a waiver for him. I wanted to avoid ever vaccinating him for rabies again. The state, in all their bureaucratic glory, would hear nothing of it. Cooper was getting another rabies vaccine.
We prepared for the worst and again administered Benadryl. But this time, I had the owners administer oral diphenhydramine 60 minutes prior to his appointment. I wasn't sure if it would be enough to completely prevent a reaction, given the gravity of his previous reaction, so I told the owners to plan to hang around for 45 minutes after the appointment for monitoring.
Benadryl for the win! Cooper was fine. He showed no signs of a reaction. He received a big gold star in his chart where I'd documented in detail both his allergic reaction and our success in "pre-medicating" him with oral diphenhydramine.
If your dog has ever had an allergic reaction to a vaccine, the first step is to determine what your dog reacted to (if possible). Avoiding the reaction entirely is better than treating the aftermath! (I share helpful information on the value of vaccinations in my podcast, Dog Vaccines–Everything You Wanted to Know But Were Afraid to Ask.)
But often, because vaccines are usually "combo" injections, we don't know what the dog reacted to. In Cooper's case, we knew because it was the only vaccine he was given the day he reacted.
For dogs that have had prior reactions (no matter how small), "pre-medication" with Benadryl is a critical part of the plan if and when vaccines must be administered again. If you are concerned about a vaccine reaction, talk to your veterinarian if pre-medication may help your pet. Some veterinarians may recommend an appropriate dose of Benadryl at home before your appointment and others may give your pet an injection of Benadryl at the appointment prior to the vaccines. (As a side note, because we now give pets vaccines less frequently than we did years ago, and through the use of titers, dogs who have vaccine reactions have more options than they once did.)
Giving Benadryl for dogs with environmental allergies (atopy)
Environmental allergies are a common health problem for dogs.
Dogs exhibit classic signs of allergies by licking or scratching their paws, groin, and axilla (the armpits).
Click To Tweet
This is because the mast cells that trigger allergy symptoms in dogs are predominantly located in their skin.
Unfortunately, while giving dogs Benadryl for allergies is a reasonable starting point, it's not nearly as effective as other categories of drugs. In my opinion, Benadryl is only about 10% as effective in dogs for treating allergies as it is for humans. And I wonder if even that little bit of improvement is because it usually makes the dogs a little drowsy, decreasing their drive to scratch. In other words, while Benadryl played a role in saving Cooper's life after his acute allergic reaction, Benadryl is never going to play the role of hero for dogs with environmental allergies.
Fortunately, there are many other options beyond Benadryl for treating environmental allergies in dogs. Hyposensitization injections ("allergy shots") and newer drugs like Apoquel® and Cytopoint® are just a few choices available. Unlike twenty years ago (when I graduated from veterinary school), today I can say that there is safe, effective relief available for dogs who suffer from atopy. Plus, there are a lot of other exciting solutions on the horizon!
Benadryl for dogs with mast cell tumors (MCT)
Last week I met Zeus, a 10-year-old Boxer who presented to me for acupuncture. I did acupuncture him. But before that, I spent five minutes talking to his owners about Benadryl. Why??
Zeus had recently been diagnosed with a mast cell tumor—the most common malignant skin tumor in dogs (though they can occur internally also).
Note the name of the tumor: MAST CELL tumor. It's time for your pop quiz:
Why might Benadryl be an important part of therapy for dogs with mast cell tumors?
High five if the light bulb just went on and you understand that antihistamines (Benadryl) would help in reducing the risk of side effects of histamine release from MCTs.
If you'd like to learn more about MCTs, you can find a wealth of resources and information from Dr. Sue Ettinger who is a practicing veterinary cancer specialist, international speaker, book author, and vlogger (video blogger). Also known as Dr. Sue Cancer Vet®, she is my go-to resource for the latest in cancer treatments for pets.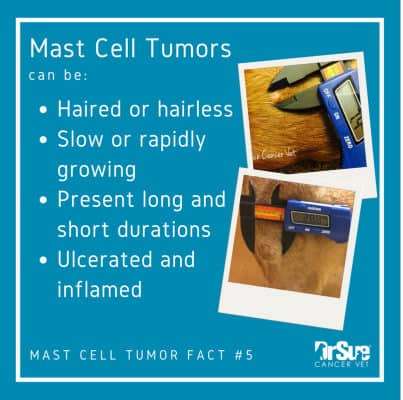 Giving dogs Benadryl may cause sleepiness
As I alluded to above, one side effect of Benadryl is sleepiness. Sometimes dog owners will give their dogs Benadryl to creatively leverage this side effect–for car travel, during Fourth of July fireworks, or other occasions where the dog needs something "to take the edge off."
While sleepiness is a side effect, Benadryl is not actually an effective sleep aid by any means. But sometimes that side effect can be used to a dog's benefit. It's important to note that Benadryl is the equivalent of taking a glass of milk before boarding a plane to calm your nerves if you have severe anxiety about flying. Think very mild (if any) efficacy as a sedative. Interestingly enough, the sedative impact may decrease with chronic Benadryl use because a dog may develop a tolerance to this effect.
Using Benadryl for nausea

On paper, at least, Benadryl is also an anti-emetic, which means a drug that prevents vomiting. I mentioned its use for dogs who are traveling. It can be helpful for dogs on road trips both by "chilling the dog out" a bit, but also because it can help with car sickness.
Again, in this day and age, there are much better drugs available to address these concerns. Talk to your veterinarian.
A word of caution about Benadryl and dogs with health conditions
Benadryl may be contraindicated with certain health conditions; it should be used with caution in dogs with known seizure activity, cardiovascular disease, or high blood pressure. Your vet will review what other medications your dog is taking, whether Benadryl could interfere with these medications, and help you determine the proper dosing for your dog.
Checking the Benadryl label is crucial for your dog's health and safety
Please note, that when administering Benadryl to your dog, it's fine to use the human formulation that you buy over-the-counter. However, it's vitally important that the Benadryl formulation not contain Xylitol (an artificial sweetener commonly used in products intended for people) or any other ingredients that are harmful to dogs. "Diphenhydramine" must be the only active ingredient in the product.
To learn more about giving your dog Benadryl, please consult your veterinarian
Finally, the good news about giving dogs Benadryl is that, when used properly, it is a safe medication. (As safe as medications go, anyway.) However, before administering Benadryl to your dog, I highly encourage you to check with your veterinarian.
What questions do you have about Benadryl for dogs?
I'd love to hear. Please comment below.