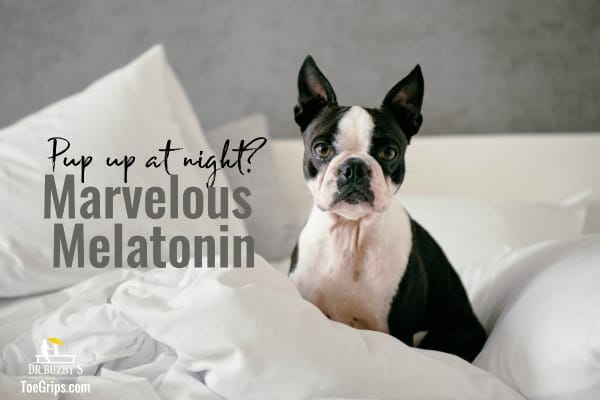 The facts about this "hormone of hibernation" that's a sleep aid and more
Melatonin for dogs? You are probably familiar with melatonin as a common over-the-counter sleep aid. It's used in humans with sleep-wake disturbances or to help travelers adjust from jet lag after a long trip. This incredible hormone also has benefits for our canine friends for a variety of conditions.
In fact, melatonin has so many uses that this is one of three stories in a series on the potential benefits for your dog. For more information, please check out: Can I Give My Dog Melatonin? A Veterinarian Sheds Light on Melatonin and Canine Cognitive Dysfunction and Melatonin.
How melatonin helped calm a rescue dog
Four years ago, my family adopted our dog, Zeke, from animal control. He was a shy, black mutt whose haunting eyes conveyed a checkered past. This was our second time adopting a dog—whom we knew nothing about—from a cage at the shelter. Many of the challenges were the same with Zeke as with our first dog—housebreaking, learning to walk on a leash, and crate training. The latter proved to be more difficult than I'd anticipated, but we persevered with positive training.
One night, when everyone was whining, including the dog, I gave Zeke melatonin to settle him that night. It was the turning point in Zeke's relationship with his crate because he just needed the slightest push toward "good boy!" to find success.
Melatonin supplements and older dogs
Because my current veterinary practice primarily serves senior dogs, I routinely recommended melatonin supplements for "doggie dementia." In article two of this three-part series, we'll delve into melatonin for older dogs.
However, I had never thought about using melatonin the way I did with Zeke that night. His success prompted me to spend quite a bit of time researching this marvelous hormone. I was stunned by all the research studies I found that referenced melatonin for treating a variety of medical conditions.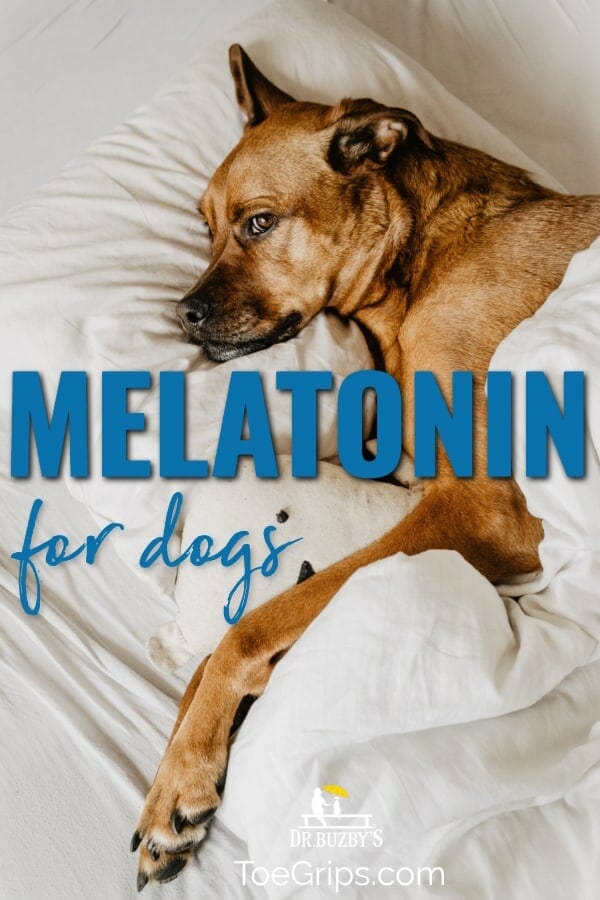 What is melatonin?
Melatonin is a naturally occurring hormone—an incredible one, at that—that is produced by the pineal gland in the brain.1,2,3,4,5,6 The pineal gland is responsible for managing sleep-wake cycles in humans.4 Other organs such as the eyes, skin, bones, gastrointestinal tract, platelets, and thymus all produce melatonin, but to a much lesser degree than the pineal gland.5 Melatonin is created during the process that converts tryptophan to serotonin, a chemical in the brain associated with happiness.3,6
Melatonin is produced in response to exposure to darkness. 1,3,6 For example, levels of melatonin are ten times higher at night than they are during the day.6
Light at night blocks the production of melatonin, and this has been shown to cause sleep disturbances in people who use electronics that emit light at night. Researchers have found that light from electronic devices can block the release of natural hormone melatonin at night. The effect was most significant for younger children, with nighttime levels reduced by up to 37 percent in certain cases. This can also be problematic for children between ages 9 and 16.
The seasons also affect melatonin production, with overall melatonin levels starting to rise in the autumn as daylight grows shorter and achieving peak levels at the longest day of the year, the winter solstice.3 After melatonin is produced, it crosses the blood-brain barrier and enters the body and cerebrospinal fluid (CSF).6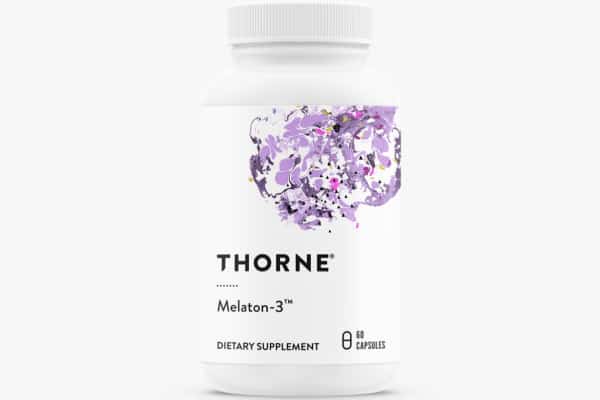 Potential uses of melatonin in dogs
As discussed previously, melatonin has been used in humans who have trouble falling asleep, have sleep problems, or who are adjusting to time changes associated with jet lag.1 Also, there is evidence that melatonin may help with some autoimmune conditions.1
We will discuss the uses of melatonin in more depth in upcoming blogs, but for now please note that melatonin may be helpful in managing many medical conditions in dogs.1,3,4,5
Melatonin may help treat:
Altered sleep cycles and wake cycles associated with dog dementia
Altered sleep cycles and wake cycles associated with blindness in dogs
Immune-mediated thrombocytopenia
Alopecia (hair loss)
Anxiety (including separation anxiety)
Seizures
Cancer
Atypical Cushing's disease in dogs
Is melatonin safe for dogs?
The good news is that melatonin is incredibly safe for dogs. Overall, it remains in the body for a very short period of time. The half-life of melatonin is only 18.6 minutes in the dog, which means it is rapidly cleared from the body.5
Like any medication, there is always the risk of side effects. Because melatonin is the hormone responsible for sleep, drowsiness is an expected side effect. Melatonin is metabolized in the liver and eliminated through the urine and feces, so caution is advised in dogs with liver disease or dysfunction.4,5,6
As always, I recommend speaking with your veterinarian before giving your dog a melatonin supplement (or any supplement), even if it is an over-the-counter medication.
Melatonin for dogs: side effects
Melatonin may also interact with some of your pet's medications. If your dog is on medication or a sedative for treating anxiety, melatonin may cause an increase in the side effects such as drowsiness or lethargy.4 Melatonin may also decrease the effectiveness of certain blood pressure medications.5
Finally, because melatonin is a hormone, it does demonstrate effects on reproductive hormones.3,4
With that said, one of the veterinary pharmaceutical handbooks advised treating dogs who had eaten a large quantity of melatonin by pumping the stomach.5 However, the reason they advised pumping the stomach was not because of the toxic effects of the melatonin. Rather, it was to prevent a "stone" from forming in the gastrointestinal tract from the inactive ingredients used in the tablets.5 You know it's a safe medication when the reference guide is more concerned about the tablets creating a "foreign body" than the drug itself!
Beware of xylitol in melatonin supplements
Most importantly, dog owners should avoid formulations of melatonin that contain xylitol. While melatonin itself is very safe, xylitol is HIGHLY toxic to dogs. For more information about the dangers of xylitol, please read my article: Xylitol and Dogs: Why Your Dog's Counting on You to Read This.
I'd like to give my dog melatonin. What dosage can I give?
If you think your dog has a condition where he or she would benefit from melatonin, please speak with your veterinarian. Melatonin supplements are very safe in the vast majority of dogs, but it is always a good idea to make sure the supplement will not interact with any other medications your dog might be taking. If your vet feels that your dog is a good candidate for melatonin supplements, he or she will recommend the correct dosage.
Stay tuned to learn more about melatonin
We are so excited to share all of the ways melatonin can potentially help your dog live his or her best life. Next week we'll be discussing the role melatonin can play to help dog owners care for dogs with canine cognitive dysfunction—doggie dementia.
Whether your dog's feeling anxious or your grey-muzzled companion needs nighttime rest, take stock in melatonin—the miracle hormone.
What questions do you have about melatonin for dogs?
Please comment below. We can all learn from each other.
Sources:
Byers, C G. "Just Ask the Expert: Is There a Role for Melatonin in Dogs and Cats with IMHA?" DVM360, 27 July 2017, veterinarymedicine.dvm360.com/just-ask-expert-there-role-melatonin-dogs-and-cats-with-imha.
Jeromin, A M. "Seasonal Affective Disorder Can Be Culprit for Canine Hair Loss." DVM360, 1 Apr. 2003, veterinarynews.dvm360.com/seasonal-affective-disorder-can-be-culprit-canine-hair-loss.
"Melatonin and Seasonal Alopecias." Veterinary Practice, 1 Nov. 2013, veterinary-practice.com/article/melatonin-and-seasonal-alopecias.
"Melatonin." Plumb's Veterinary Drug Handbook, Veterinary Information Networm, 1 Jan. 2015, www.vin.com/members/cms/project/defaultadv1.aspx?id=4692338&pid=451&.
"Melatonin." VIN Veterinary Drug Handbook, Veterinary Information Networm, 30 June 2017, www.vin.com/members/cms/project/defaultadv1.aspx?pId=13468&id=7868548.
"Melatonin: Side Effects, Uses, Dosage (Kids/Adults)." Edited by L Anderson, Drugs.com, 26 Mar. 2019, www.drugs.com/melatonin.html.
Reiter, R J, et al. "Melatonin, a Full Service Anti-Cancer Agent: Inhibition of Initiation, Progression and Metastasis." Int J Mol Sci, vol. 18, no. 4, 2017, doi:10.3390.
Rosenthal, M. "When Pets Lose Their Sense Of Place." Veterinary Practice News, 9 July 2013, www.veterinarypracticenews.com/when-pets-lose-their-sense-of-place/.